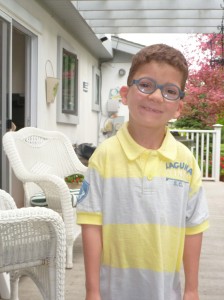 Luke Perry was born March 6, 2006. He was taken quickly to the NICU, so it wasn't until hours after his birth that I got my first good look at our new son. The next week was a surreal rainstorm of meeting many new doctors, each with news of a different anomaly Luke had or explanation of a surgery he would need. It was soon discovered Luke had a genetic disorder referred to as a trisomy 8 mosaicism, which means instead of having a pair of 8th chromosomes, he has an extra copy in some of his body cells. Surgery was able to repair his kidneys, his eyes, and his malformed bowels. What it couldn't fix was the agenesis of the corpus callosum. The corpus callosum is the area in the center of your brain which connects the right and left hemispheres. That section of Luke's brain did not develop. Some people live their whole life with this condition and never know they have it, and others are significantly impaired. Luke's genetic disorder is very rare so doctors didn't know what to his future held. We were told to take him home and give him lots of love. Bad news would show itself quickly, good news will be slow.
Luke has spent much of his life in physical, occupational and speech therapy. He has had to overcome significant gross and fine motor issues. With hard work, Luke has learned to walk, climb stairs and write his first name.
Over time, it has become evident to us that Luke's biggest challenges will be his severe speech delay and the fact that he needs more support and time to learn academic concepts than most of his peers. Those two issues have added complexity to giving Luke a good education in our public school system.
We were not prepared for the grim picture of what going to school would look like for someone like our son. One of Luke's brightest qualities is what a happy and social boy he is. Nothing makes him happier than playing with his siblings or running in our yard with a group of the neighborhood kids. Luke loves to be included.
Quickly we learned the best path for Luke was not to be separated from his typical peers, Luke had the best chance at academic success by being educated with an inclusive philosophy.
Cameron Can has helped us to achieve that goal for our son. Today Luke is attending first grade in a general education classroom with his friends and peers. He has individual aide and be given significant additional support in an effort to help him be successful in that environment. We were able to secure that through the use of an educational advocate in our meetings with our school district. In addition, thanks to Cameron Can's help Luke has worked with a reading tutor this summer in preparation for keeping up with his classmates in the fall.
Being Luke's parents has brought us some heartbreak, but it's also given us the gift of immeasurable joy. Our wish for him is a joyous and productive life. Thank you Cameron Can for helping us to help make that dream come true.