September 2015: The Cameron Can Foundation featured in Parents Magazine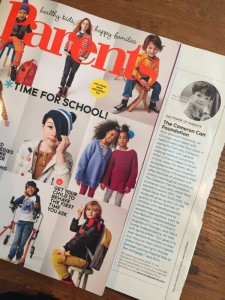 Many thanks to the editorial staff of Parents Magazine for the blurb about our organization in the September 2015 "Time for School" issue. The mention includes a $500 donation to The Cameron Can Foundation. Thanks Parents for all you do to educate and inform your readers.
---
September 6, 2014: Walk to End Hydrocephalus in Chicago, IL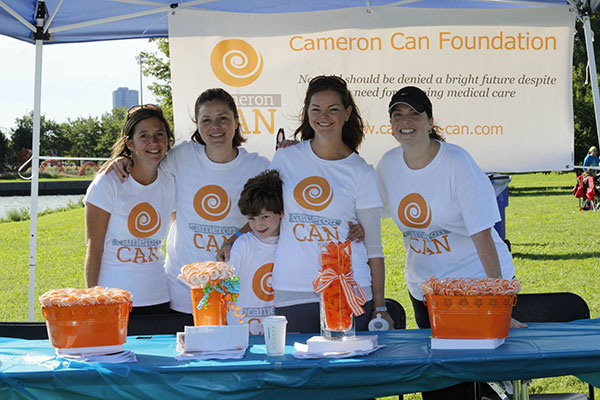 This year, the 10th annual Chicago WALK for Hydrocephalus Association broke records with over 750 participants gathering in Lincoln Park, including five from the Cameron Can Foundation. The Cameron Can team–led by team captain Rory Dominick–raised $790 for the Hydrocephalus Association (HA) and its mission: to find a cure for hydrocephalus and to improve the lives of those affected by the condition. The Cameron Can Foundation also displayed a booth which allowed us to spread our word to attendees.
---
September 5, 2014: 101.9 Mix Radiothon in Chicago, IL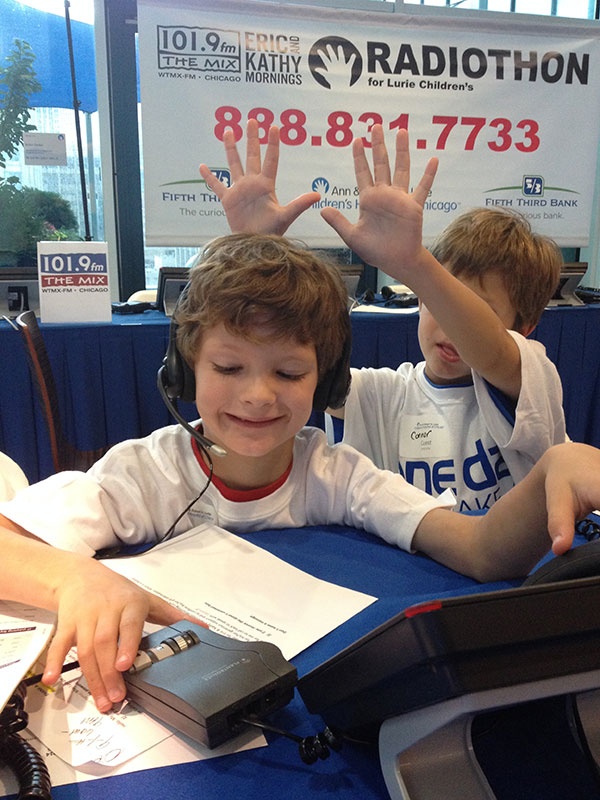 The Dominick family participated in the 15th annual 101.9 Mix Radiothon to support Lurie Children's Hospital. Cameron worked his charm on the phone, raising $500 with calls to family and friends.Thank you to all who took his call and donated to Lurie Children's in honor of Cameron and The Cameron Can Foundation.
---
August 22, 2014: The Pediatric Hydrocephalus Foundation 2014 Caucus in Washington, D.C.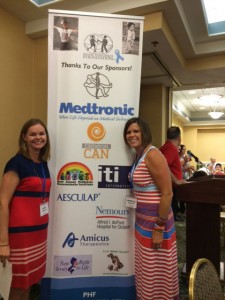 In August, Rory Dominick and Rebecca Winslow traveled to Washington DC to participate in the Pediatric Hydrocephalus Foundation "Day on Capitol Hill." The day included several meetings with Congress staffers and an amazingly informative afternoon panel where Rory Dominick was invited to speak about the success of our Cameron Rocks On! events and guide others on how to create successful events.
---
12 Days of Giving: Chicago charities give back this holiday
Chicago News and Weather | FOX 32 News
---
Chicago Trib Local Ad Placements: November 21-27, 2013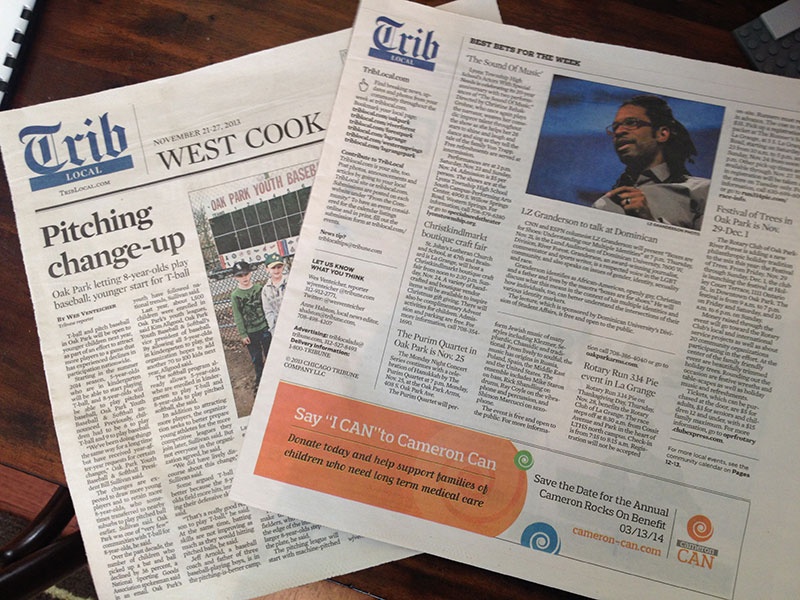 ---
101.9 THE MIX: 2013 36 Hour Radiothon

About the Event
Join Cameron Can at this event September 6, 2013 where we will present Lurie Children's Hospital with a check for their Patient Emergency Fund. And don't forget to tune in to listen to a portion of Cameron Dominick's story.
---
Splash Sun Times Press: April 7-13, 2013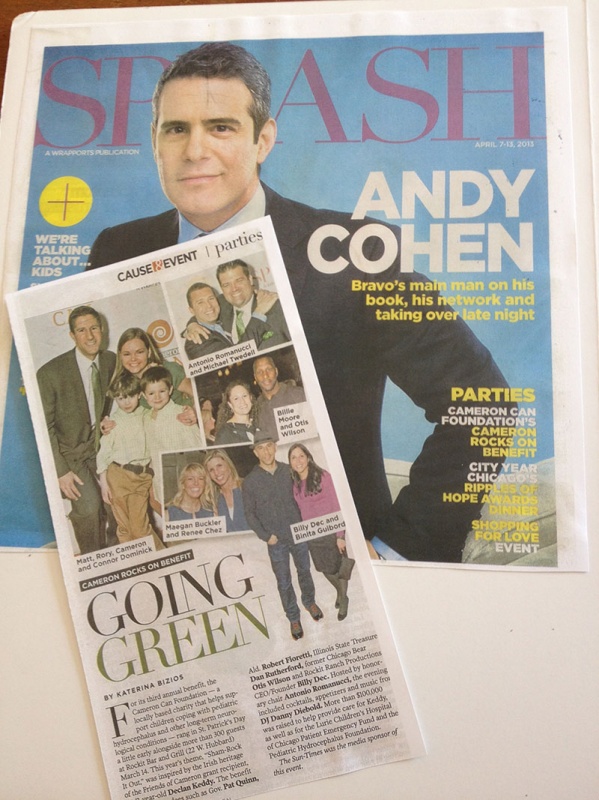 ---
101.9 THE MIX: 2012 36-Hour Radiothon

Audio Clips from the Radiothon
In September Cameron's story was featured during the 101.9 Mix Radiothon for Lurie Children's Hospital of Chicago. Listen to his story here as told by his mother Rory.
About the Event
After 130 years of treating critically ill children in its Lincoln Park hospital, Children's Memorial Hospital has built a new world-class facility, Ann & Robert H. Lurie Children's Hospital of Chicago, which will open on June 9, 2012. The 23-story, state-of-the-art hospital is located in downtown Chicago on the campus of our academic partner, Northwestern University Feinberg School of Medicine, and will offer the latest benefits and innovations in medical technology, research and family-friendly design. The hospital seeks the support of the entire community to complete and invest in Lurie Children's to help heal and save more children.
---
Michigan Avenue Magazine Press: Summer 2012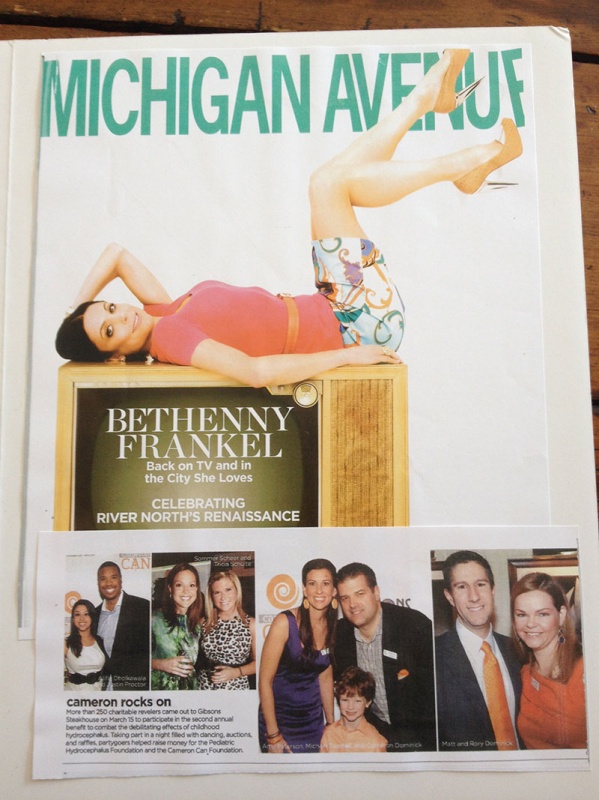 ---