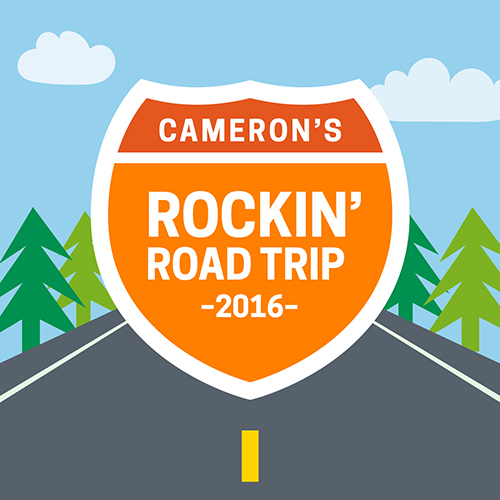 Join the 2016 Road Trip.
The Cameron Can Foundation is shaking things up a bit in 2016…and we want you to be a part of it. In effort to break the $500,000 mark in total funds raised, we're taking the Foundation on the road. Rather than throwing one large event in Chicago next year, we are launching Cameron's Rockin' Road Trip 2016, where our Cameron Can Rock Stars host their own events. Who are our Rock Stars? You! Host a wine tasting, a swing-a-thon at a local park, a chili cook-off…whatever your passion, invite some friends and raise some funds.
For more information, or to select a date and start planning, contact Rory Dominick.
Rockin' Road Trip gear is available for your event.
Our team would love to help you promote and support your event. So, as you are planning an event to support The Cameron Can Foundation please keep us posted on details. We will help promote the event via social media and provide materials to have on hand at your event, including:
Orange suckers
Newsletters
Postcards
Stickers
Logo/artwork.
The Rockin' Road Trip is happening near you…
One example of a Rockin' Road Trip event is Riverside's Turkey Bowl, happening in a local park on Thanksgiving Day. Check out the details here.