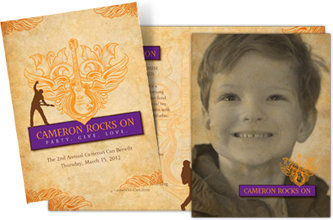 Thanks to all who Rocked our world!
Wow. That's all we can say. Over 200 people brought their generous hearts and swiveling hips to Cameron Rocks On—and we thank you from the bottom of our hearts. We celebrate these "record-breakers":
More money raised
More people attended
More children helped – Cameron Can benefitted Maureen Stathopoulous, Declan Keddy and the Pediatric Hydrocephalus Foundation
We were so blessed with donations this year that we were able not only to aid Cameron and Maureen, but to give a much needed "financial boost" to the Keddy family, who's 18-month old son Declan suffers from Hydrocephalus and several other medical conditions. We are looking forward to helping Declan and his family even more in 2013!